Description
Overview
This bolt-on turbo is plug-and-play on the factory location.  While the max power has increased, it will not compensate for the response and transmission characteristics of the original setting.  The power can be increased to high RPM and the maximum power can reach up to 315HP.
 
---

Application for

2011–present Nissan Juke 188 hp (191 PS; 140 kW)
2013-2015 Nissan Juke NISMO (V1 Engine) 197 hp (200 PS; 147 kW)
2014–present Nissan Juke NISMO RS FWD 215 PS (158 kW; 212 hp) 
2013–present Nissan Tiida (hatchback)/Nissan Pulsar/Nissan Sylphy
2013–present Renault Sport Clio (M5M) 200 PS (147 kW; 197 hp)
2015–present Renault Sport Clio TROPHY (M5MT)215 PS 
2017–present Nissan Sentra SR Turbo & NISMO 188 hp
 
---

Modifications
Mods:Injen SRI
Forge FMIC w/pipes
Forge Recirc Valve
Injen 3" testpipe
Injen 3" catback exhaust
Hallman Pro MBC @ 14 psi
ECUTek / Viconti Stage 1 flash
 
---

Dyno Testing


※The values may be different due to the different modifications and setting on each vehicle.
 
---

Features
 
The exhaust housing is made of high temperature-resistant D5S cast iron. The content of high-temperature resistant metal nickel is as high as 34~37%, which can withstand continuous extreme temperature and pressure.
 
This upgraded high-flow turbine wheel comes with Inconel alloy.  It consists of metal nickel as high as 70%, able to withstand higher temperature and pressure.  As to the blade design, it offers much higher efficiency in terms of airflow, smoother exhaust and backpressure reduction.  In return, we have much better wheel performance.


  
The upgraded aero grade aluminum billet compressor wheel allows higher intake air volume and improves air inlet efficiency.


  
Direct Bolt-On with stock pipes for cost-effective installation.
 
The turbine housing valve parts are made of heat-resistant, corrosion-resistant, high-strength alloy, which withstands long-term high temperature and valve opening-closing impacts.
 
Billet adjustable actuator comes with different springs, able to adjust boost level according to tuning needs.


  
Balanced by Schenck balancing machine
Precise balancing is one of the essential procedures in JP Turbo production. A good balance is always an important factor in having an outstanding performance and reliability of a turbocharger. A good balance can also improve the noise generated by the high-speed operation. We have very strict operating standards for balance.  First, we perform a low-speed dynamic balancing on a high-precision single-piece balancing machine in order to achieve the best balance of the parts. Secondly, we rigorously assemble the CHRA parts. After the assembly is completed, the high-speed dynamic balance is then performed. Our high-speed dynamic balancing machine can reach a maximum speed of 250,000 RPM.  This balancing standard surpasses the OEM standards.  Each turbo is accompanied by a serial number and the balance test result is kept in our database.
 
---

Original Turbo VS JP Turbo J315X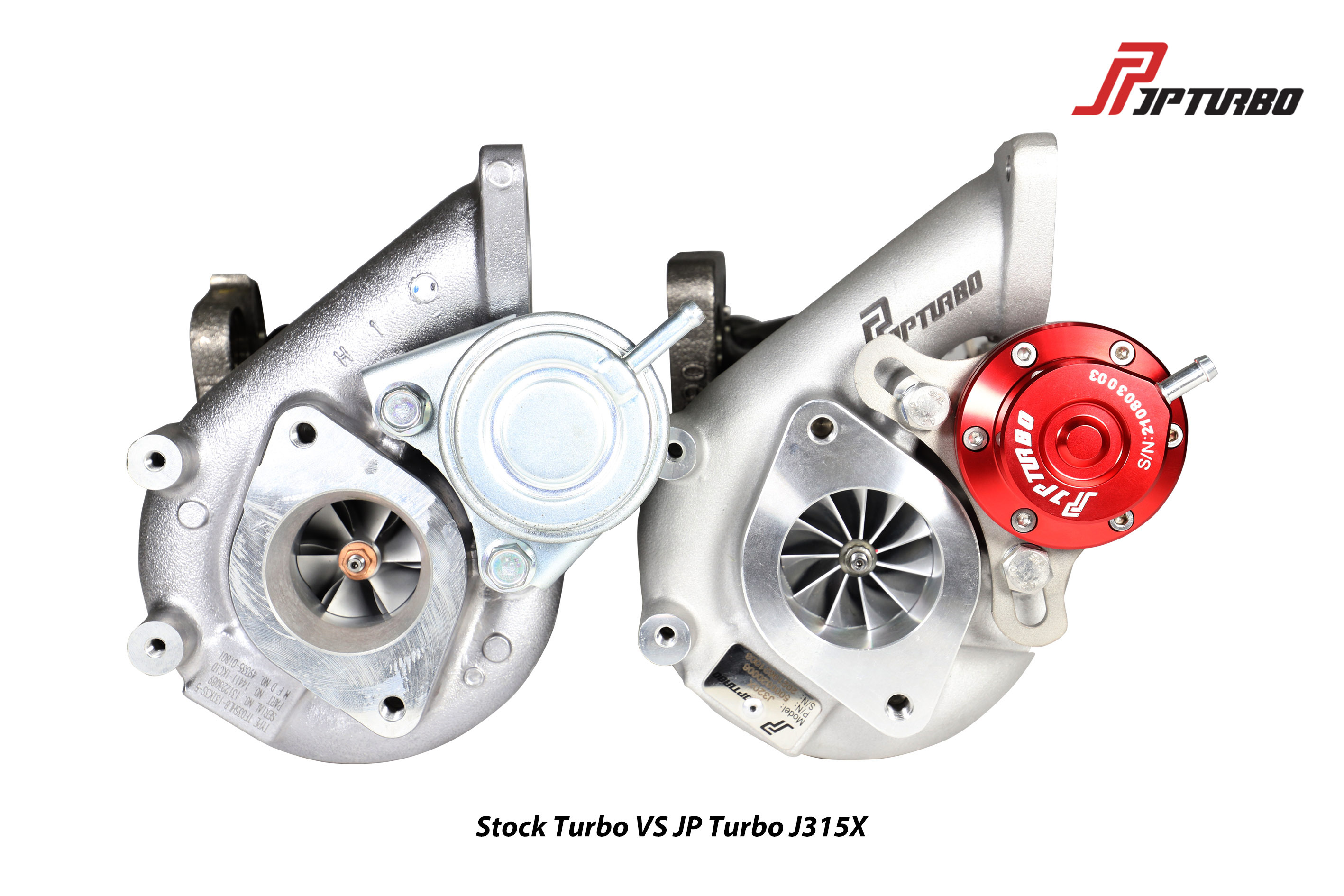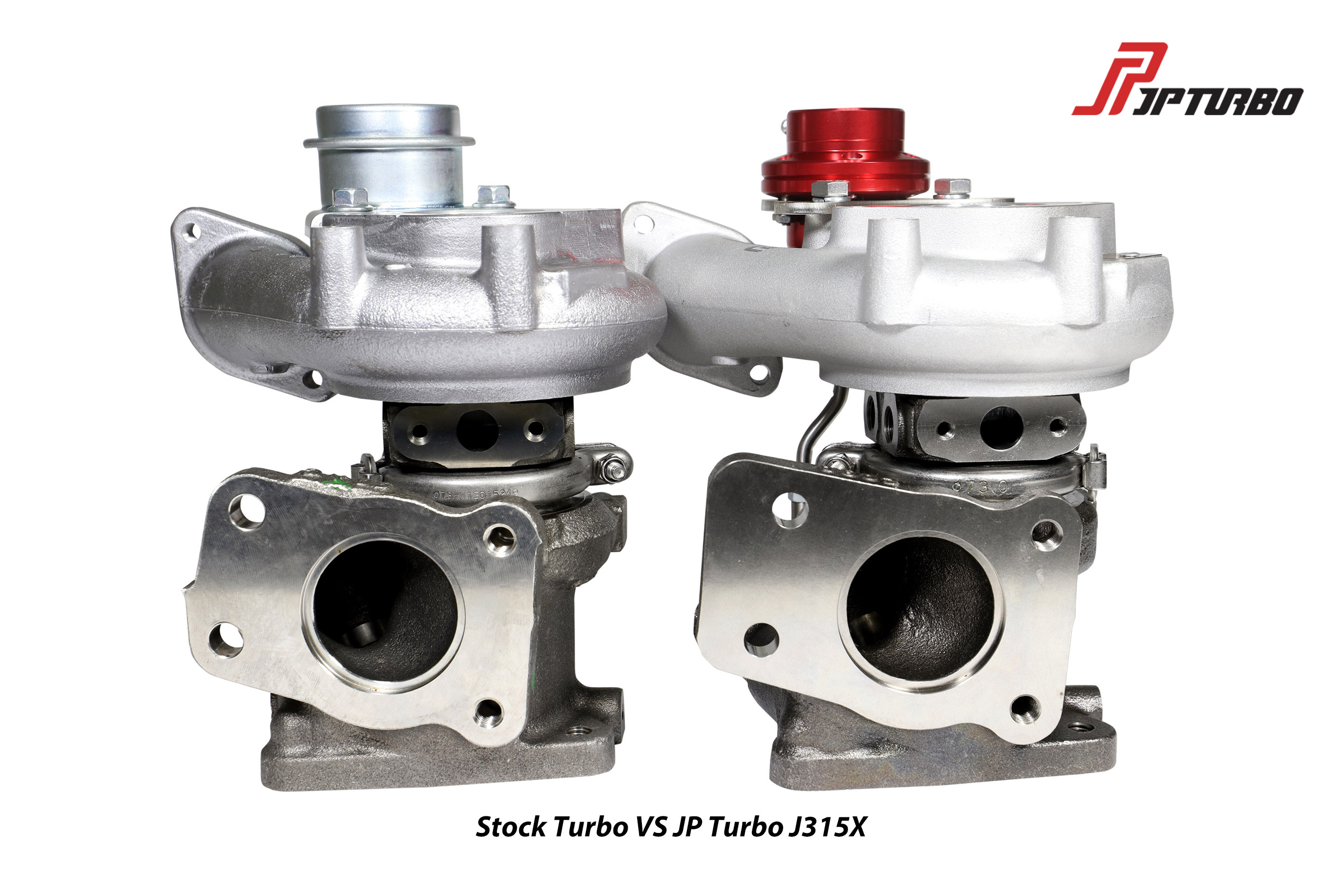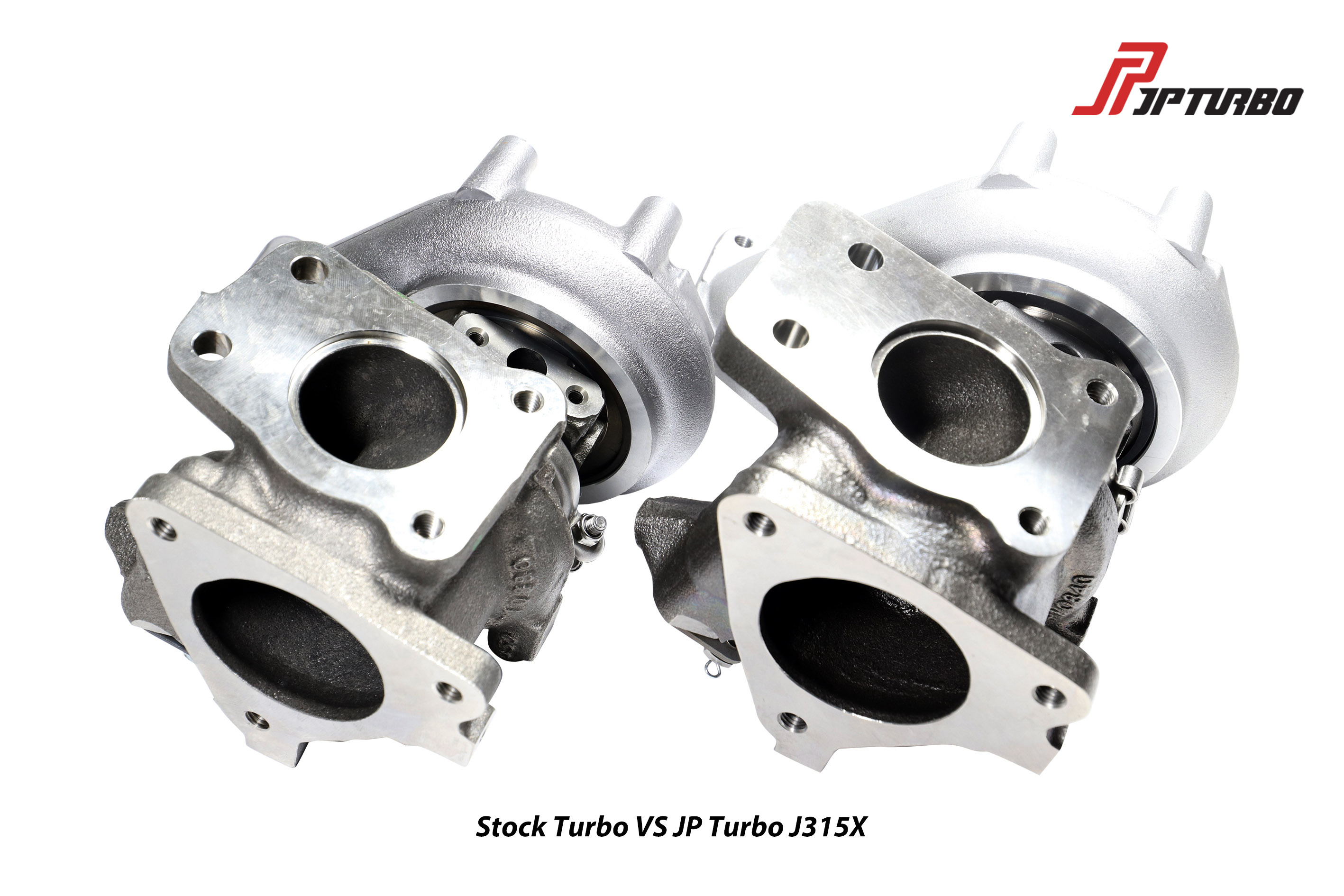 ---

The wheel comparison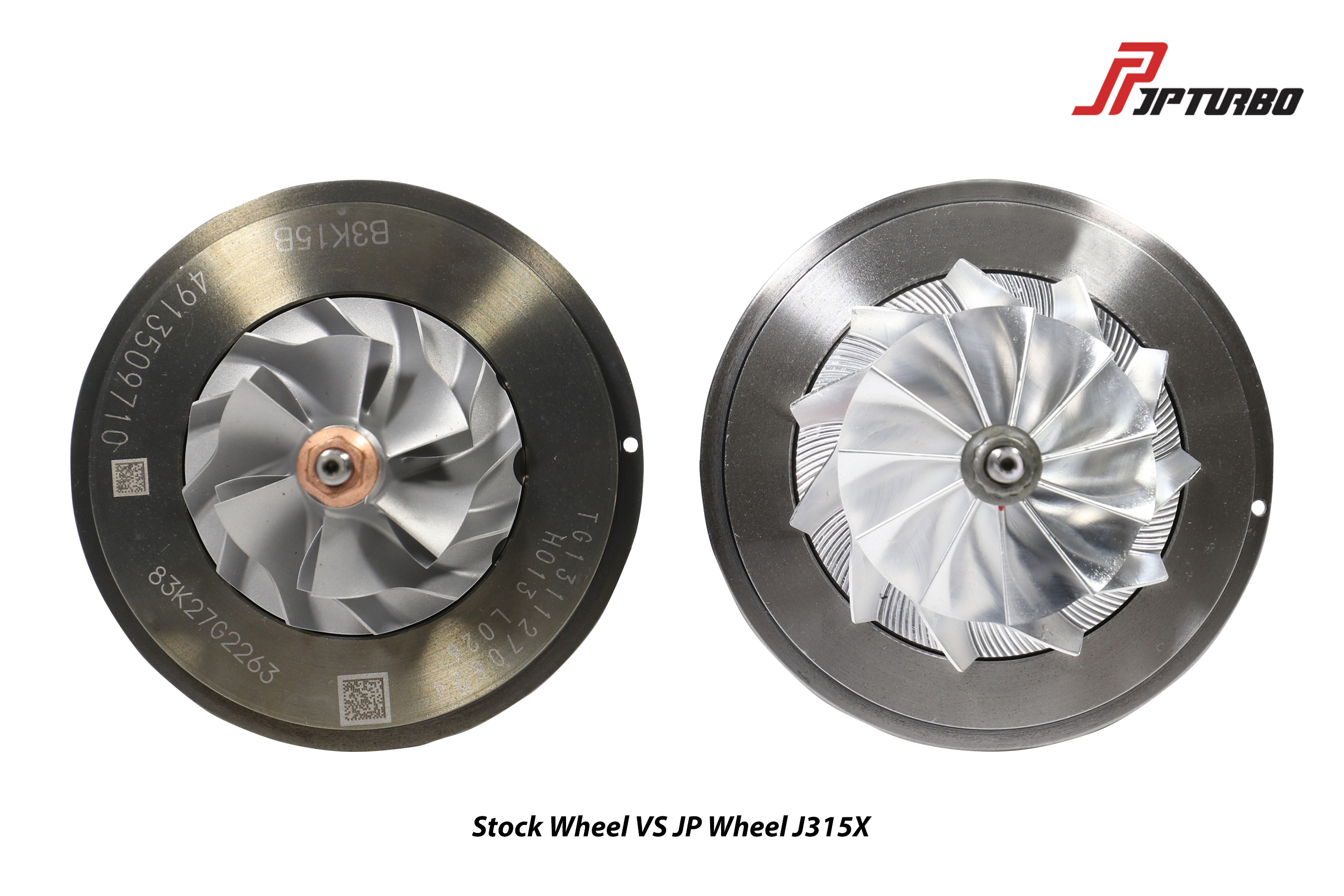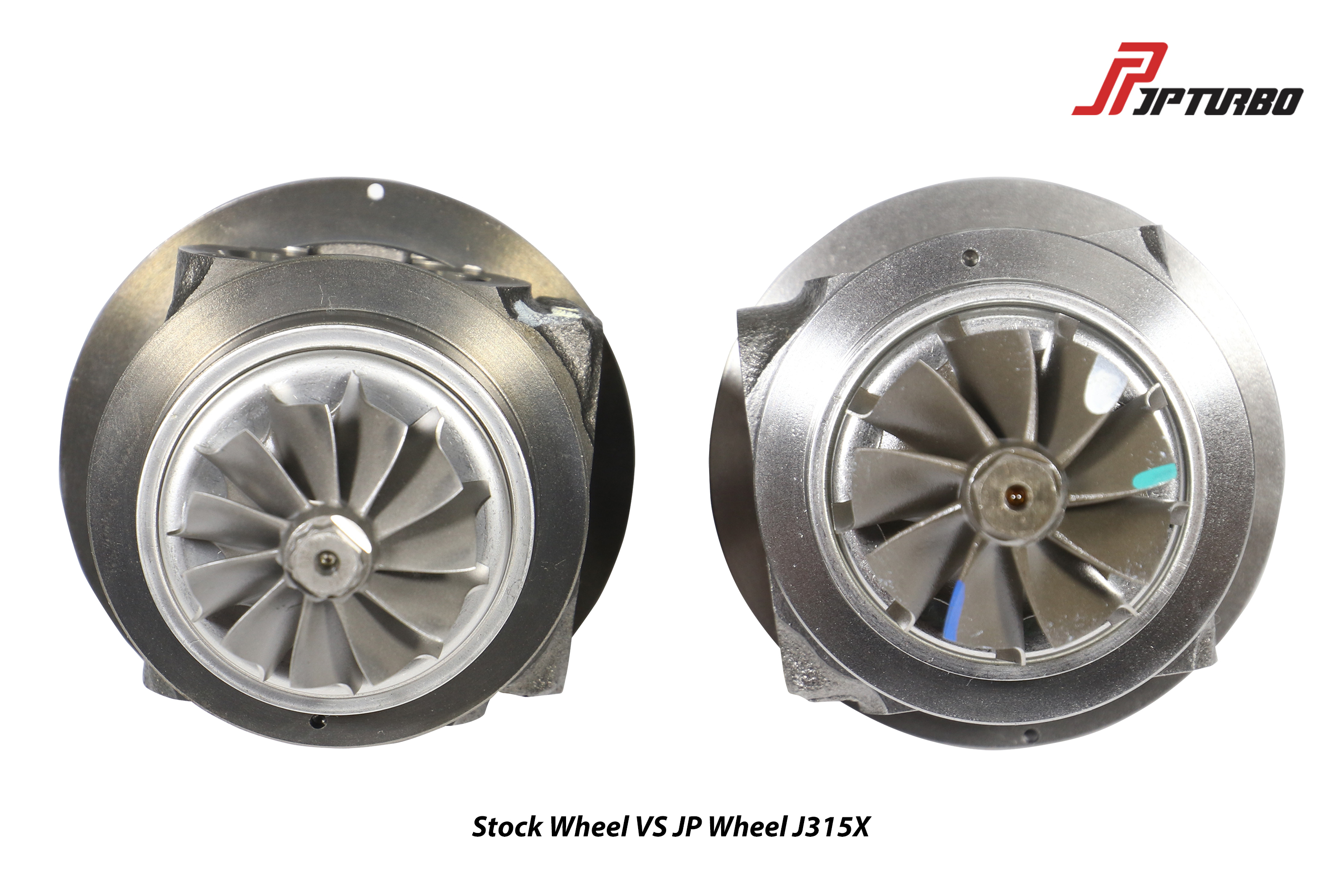 ---

Necessary Modifications
In order to maximize the performance of this turbo, we recommend upgrading suitable software as well as a downpipe, exhaust system, intercooler and the air intake.