Description
Turbine Kits



※ Buy Together and Save More



---

Overview
The B480X supercore is a universal turbocharger. The target horsepower is to correspond to a maximum horsepower of 480HP.  With the patented double ceramic ball bearing, the turbocharger can prolong the service life and spool up faster. The water-cooled CHRA keeps the temperature as low as possible to ensure the  lifespan of the product during intense driving. The turbos are made of Inconel, a superalloy that maintains its strength over prolonged exposure to high exhaust temperatures.  Turbo exhaust housings are available in a variety of options, as well as various A/R and flange configurations.
Application for

1.4-2.5 GASOLINE ENGINE
2.8-5.0 DIESEL ENGINE


---
Dyno Testing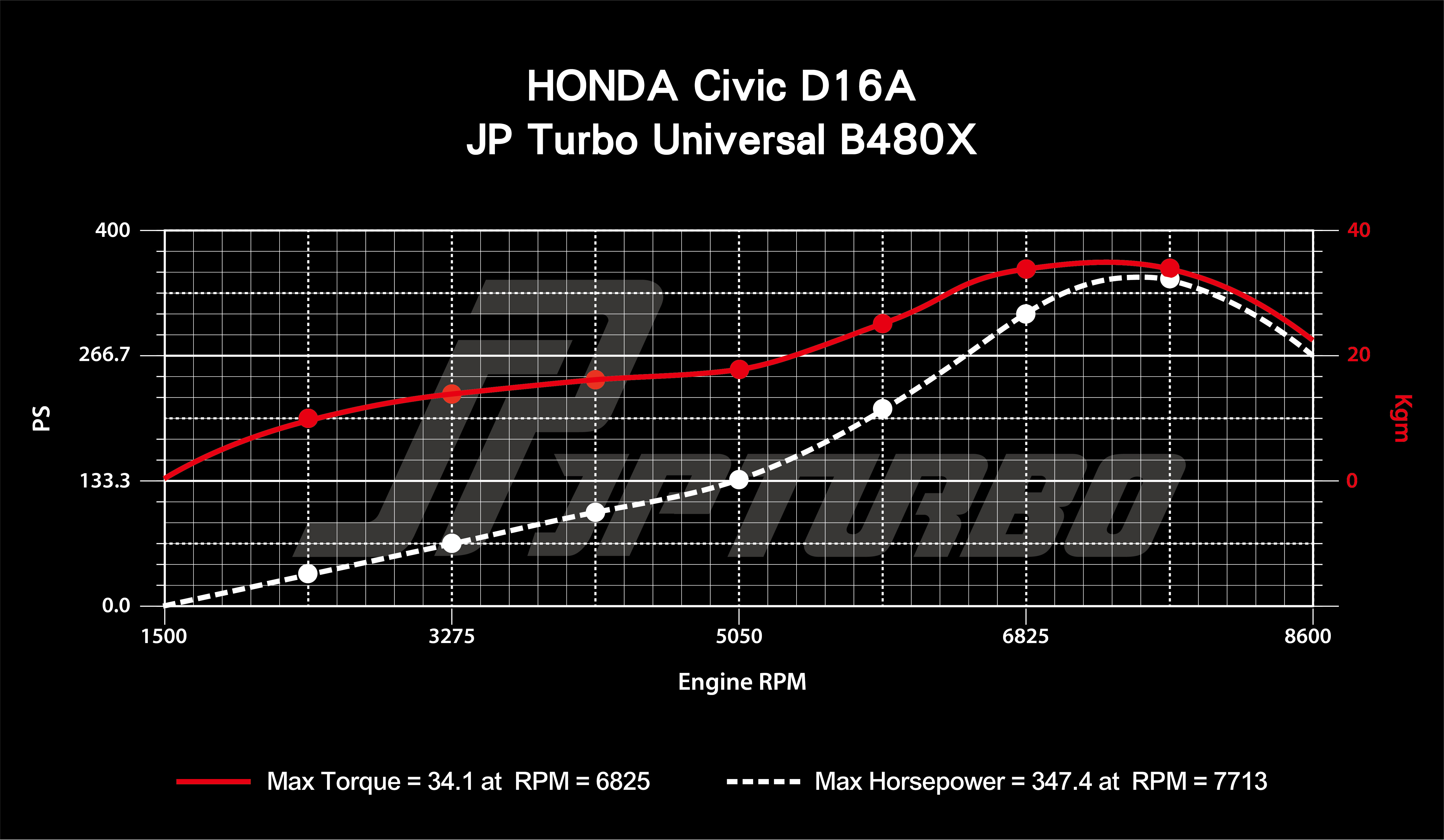 ※The values may be different due to the different modifications and setting on each vehicle.



Features

Patented JP Turbo dual ceramic ball bearing
The low friction allows the bearing to work at much lower required force and gives a boost at earlier RPM.  The ceramic ball is made of  Si3N4 high-precision fine ground ceramic ball. The spherical surface is in a perfect mirror state.  With the match of the high-temperature, wear-resistant, shock-resistant and lightweight retainer cage, our bearings give an earlier boost than other ball bearings!




This upgraded high-flow turbine wheel comes with Inconel alloy.  It consists of metal nickel, able to withstand higher temperature and pressure.  As to the blade design, it offers much higher efficiency in terms of airflow, smoother exhaust and backpressure reduction.  In return, we have much better wheel performance.


Enlarge Inconel high-low turbine wheel


The upgraded aero grade aluminum billet compressor wheel allows higher intake air volume and improves air inlet efficiency.


Enlarge Aero Grade Aluminum Billet Wheel.